Hundreds of other National Park Service units means a whole lot of additional inspiration. Check the links below for bonus parks not found in either book, or sign up for our email list and get new parks as they're available.
Welcome, White Sands National Park!
The newest national park, New Mexico's White Sands, was created on December 20, 2019. Its sands of white gypsum crystals glimmer in the desert sun, a reminder of an ancient lake but also ever-changing as more gympsum drains down from the nearby mountains.
As promised, here is the White Sands National Park entry for free download. Enjoy!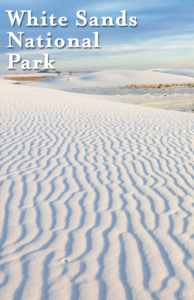 Additional National Park Service sites