Take a peek inside America's Holy Ground
The parks
You're probably curious: What does this book say about my favorite national park? Here are the parks and their themes:
Acadia: Beginnings
American Samoa: Endings
Arches: Connection
Badlands: Wisdom
Big Bend: Borders
Biscayne: Chaos
Black Canyon of the Gunnison: Turbulence
Bryce Canyon: Language
Canyonlands: Stories
Capitol Reef: Reconciliation
Carlsbad Caverns: Imagination
Channel Islands: Protection
Congaree: Unity
Crater Lake: Reflection
Cuyahoga Valley: Restoration
Death Valley: Life
Denali: Name
Dry Tortugas: Emancipation
Everglades: Preservation
Gates of the Arctic: Wilderness
Gateway Arch: Art
Glacier: Consequences
Glacier Bay: Change
Grand Canyon: Grandeur
Grand Teton: Companionship
Great Basin: Adversity
Great Sand Dunes: Movement
Great Smoky Mountains: Diversity
Guadalupe Mountains: Landmarks
Haleakalā: Journey
Hawaii Volcanoes: Paradox
Hot Springs: Sabbath
Indiana Dunes: Compromise
Isle Royale: Isolation
Joshua Tree: Adaptation
Katmai: Joy
Kenai Fjords: Signs
Kings Canyon: Mission
Kobuk Valley: Sustenance
Lake Clark: Solitude
Lassen Volcanic: Potential
Mammoth Cave: Darkness
Mesa Verde: Community
Mount Rainier: Revelation
North Cascades: Place
Olympic: Gifts
Petrified Forest: Time
Pinnacles: Return
Redwood: Peace
Rocky Mountain: Perspective
Saguaro: Nurture
Sequoia: Foundation
Shenandoah: Home
Theodore Roosevelt: Vision
Virgin Islands: Remember
Voyageurs: Teamwork
White Sands: Belief*
Wind Cave: Spirit
Wrangell-St. Elias: Guidance
Yellowstone: Faithfulness
Yosemite: Trust
Zion: Paradise
*White Sands National Park was added in December 2019, following the most recent printing of America's Holy Ground. Download the PDF free.
The book
Sixty-one* national parks are highlighted in the book, most with several photos. The 45 most visited parks have four pages of reflection and photos; the 16 least visited have two pages. Here's a look at Crater Lake National Park: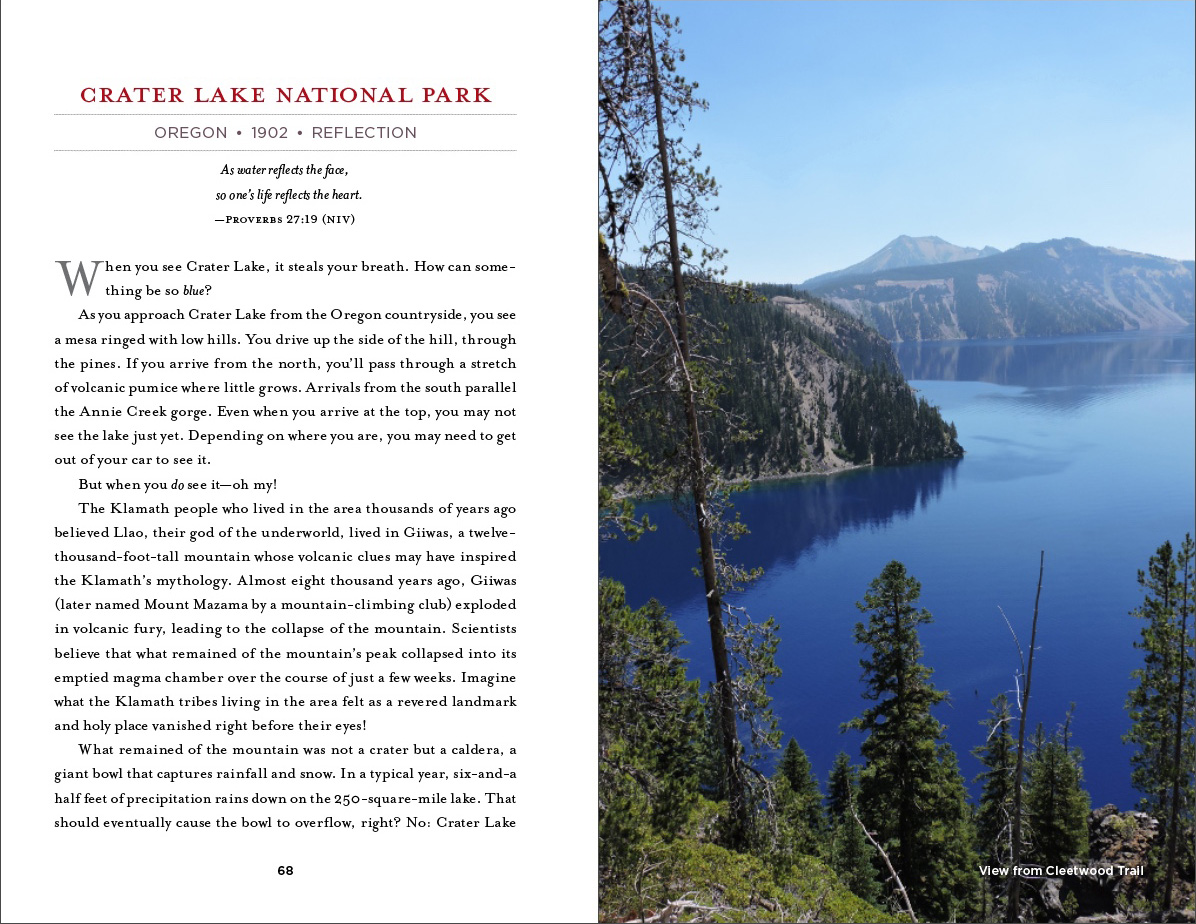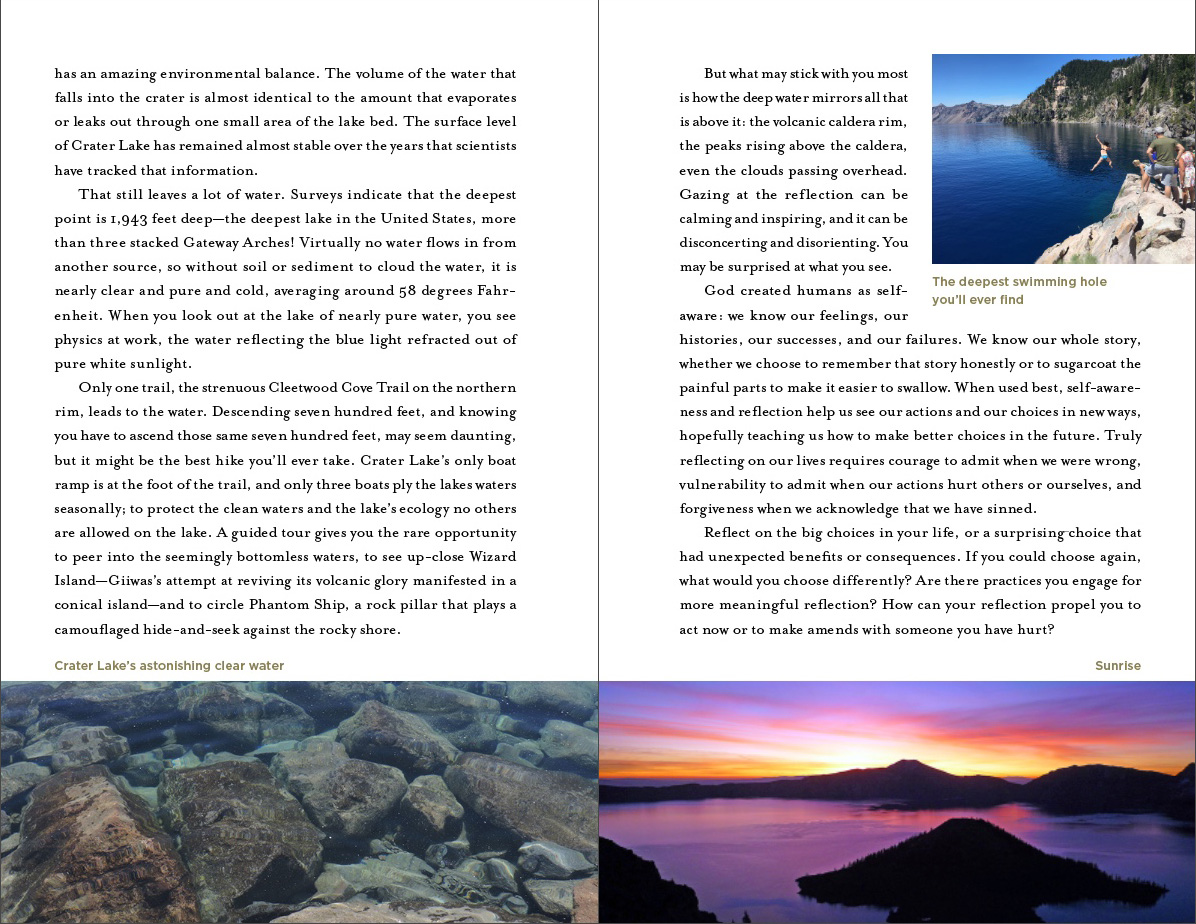 America's Holy Ground contains more than 180 full-color photos. This is one of the few parks where one of the authors took a majority of the photographs. "Sunrise" is a public domain photo from the National Park Service.
We can't wait to share the other 60 parks, the invocation and benediction, and journal pages with you!